I've been noticing a number of my friends and colleagues participating in "#ChallengeOnNaturePhotography" on Facebook and Twitter. It's a challenge campaign whereby folks challenge others in their network to take a nature photo each day. ‪#ChallengeOnNaturePhotography‬ hits the usual notes…pay more attention to nature…share those noticing…spread the practice of attending to nature.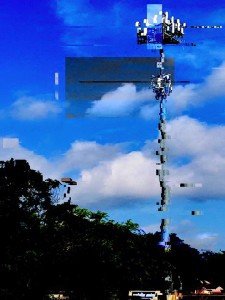 I want to issue a similar challenge but with a slight difference. I challenge you to take a picture a day for 7 days of infrastructure and share those pictures either on Facebook or Twitter (or you can send them to me directly). Not unlike the nature photography challenge, I want #ChallengeOnInfrastructurePhotography to foreground that which usually resides in the background. I usually understand infrastructure through a very broadly construed notion of the term and encourage you to do the same. It could be physical transportation infrastructures–bridges, roads, railway tracks–or can be information communication infrastructures–cell towers, data centers, telephone wires–or it can be any combination of things that connect two or more systems. Bonus points for any pictures that capture
stealth infrastructures
 that try to hide or camouflage devices.
I will be collecting any images shared either through the (impossibility long) hashtag "#ChallengeOnInfrastructurePhotography" or through 
email
. I intend to use the images, with attribution of course, in my presentation on "rhetoric and/as infrastructural art" at the
Rhetoric Society of America Biennial Conference in Atlanta
. I may also use some/many of those images in the eventual work (article and/or book chapters) that result from that presentation.
In any case, I appreciate any and all help. Thanks.